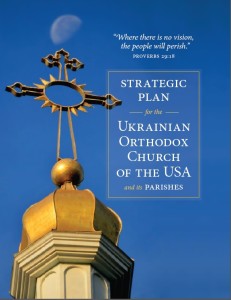 The future of Christ's church in America is in our hands. What are we doing to have "a good account before the awesome judgment seat of Christ?" This week, the national Ukrainian Orthodox Church of the USA answers that question in a most powerful and decisive manner with the release of their transformational Strategic Plan at their SOBOR.
For over a year and a half, a dedicated and diverse group of stewards from throughout the US worked diligently to create a consensus mission, vision, core values, statement of why, SWOT analysis and identify 25 strategic goals and action plans to help the UOC of USA better serve the faithful and make disciples.
Under the spiritual guidance and leadership of Metropolitan Antony and Bishop Daniel, and with the dedication of over 70 stewards and disciples led by the indefatigable Gayle Woloschak, I have been blessed to facilitate the creation of this great strategic plan.
Check out this magnificent work at www.stewardshipcalling.com on the UOC of USA page under the Church Strategic Planning Tab at:  www.stewardshipcalling.com/ukrainian-orthodox-church-usa-startegic-plan
If you are in the South Bound Brook, New Jersey area this Friday, October 21st, come spend the day at UOC of USA Metropolia Center and join us as we give glory to God and share this inspired plan and program. May the Lord bless this critical and noble work.