For 18+ months I was honored to lead a talented and diverse team of over 50 dedicated clergy and laity from the 7 Western U.S. States throughout the Greek Orthodox Metropolis of San Francisco in the development of their comprehensive strategic plan using this process.  Here is a copy of that extraordinary plan that is now being implemented: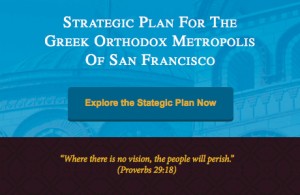 This Strategic Plan clarified their Statement of Why, Strengths/Weaknesses/Opportunities/Threats, Mission, Core Values and outlined a new "SWEEPing" Vision with 37 strategic "SMART" Goals that they will implement to help their Parishes emulate the Kingdom of God, a culture overflowing with joy, peace and love. This same model will be used to help the local Parishes develop their own strategic plans.
Pages 1-3 of this Metropolis of San Francisco Strategic Plan will give you a great high level summary, and reading pages 5-21 will describe in slightly more detail the process and methodology we used to create this road-map for a bright future. I am blessed to now use this same proven strategic planning discipline to develop a comprehensive strategic plan for the Greek Orthodox Metropolis of Atlanta and all of their Parishes in the 8 Southeastern States.
The Metropolis of San Francisco is well on its way, and making great progress, toward achieving its vision:
We will grow the Orthodox Christian Church in the Western United States through Christ-centered:
Stewardship;
Worship;
Education;
Evangelism; and

Philanthropic outreach.
God bless.