How can a Parish practice true Christian Stewardship? We know that when it does, the Parish is on fire and can achieve the unimaginable and experience no financial challenges as it strives to emulate the kingdom of God.  So how can every Priest and Parish leader better ensure that his or her Parish practices true stewardship and gives every parishioner the opportunity to maximize his or her commitment of time, talent and treasures for God's work? 
Igniting the Flame of True Christian Stewardship is just such a program to help each Parish and leader define and better practice their stewardship calling.  The program has received rave reviews and has earned an average evaluation score of 9.6 out of 10 and a median score of 10 out of 10. Check out the TESTIMONIALS tab for a few actual comments and evaluations from clergy and lay leaders who participated in this dynamic stewardship training program.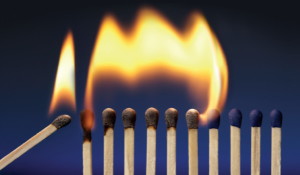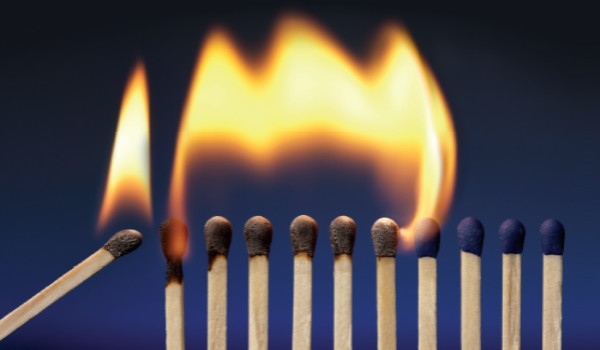 Igniting the Flame of True Christian Stewardship is a unique, inspirational and step-by-step educational and interactive experience based on best practices and Holy Scripture that teaches how to effectively  implement a highly successful stewardship paradigm.  It is now the official stewardship program of the Greek Orthodox Metropolis of San Francisco, and all of the Parishes in the Western United States will be systematically implementing it, as have many other Parishes throughout the United States. This 4-hour, high energy and very entertaining program is designed to maximize participant interaction, and can be customized to meet the unique needs of any particular denomination or Parish. 
Participants learn:
(1) The real facts of what is happening in Christian churches in America;
(2) What true stewardship is;
(3) How to re-organize your Parish to maximize results;
(4) What are the 3 critical stewardship principles;
(5) How to implement effectively 2 dynamic stewardship tactics;
(6) The 3 most effective communications strategies;
(7) A highly successful Parish operational and organizational paradigm; and
(8) A comprehensive 9-step process for how to organize the most effective Parish and stewardship ministry.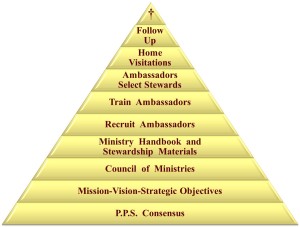 The 2015 version of the handout materials for my Igniting the Flame stewardship program (plus the 4-P Strategic Planning program I teach) can be found here: (Notice, it is a big file so it will take some time to download.)
Click on the links below for the 2014 predecessor version of PowerPoint Parts 1 through 7 for the Igniting the Flame of True Orthodox Christian Stewardship. This version was designed for Orthodox Christian churches and can be customized for other denominations:
1.  Slides Introduction and Part 1  (Your Personal Calling and the Spirituality, Income and Numbers Challenges in Christian Churches)
2.  Slides Parts 2, 3 and 4 (Scriptural Foundation of Stewardship, 3 Essential Stewardship Principles,  2 Most Effective Stewardship Tactics)
3.  Slides Parts 5 and 6  (New Parish Operational Paradigm and Effective Communications)
4.  Slides Parts 7  (Strategic Planning)
Please go to the TRAINING VIDEOS  tab in this website to see the full 4 video segments for the Igniting the Flame of True Orthodox Christian Stewardship program.
I have been blessed to travel throughout the country 200,000+ miles every available weekend for the last 8+ years energizing and inspiring thousands of church leaders and clergy throughout the country to achieve outstanding and significantly improved results in every aspect of their parish life.  This highly effective, practical and spiritually based Christian stewardship approach can substantially improve a Parish's ministries, communications with its stewards, and financial stewardship results.  The conventional wisdom is that "insanity is doing the same thing over and over again and expecting a different result."  Many Parishes have practiced a degree of insanity with their unsuccessful or stagnant stewardship programs.  This is the chance to break the chains that bind us to less effective stewardship and Parish practices.
If you are interested in bringing the Igniting the Flame of True Christian Stewardshipprogram to your community, contact Bill Marianes at either Bill@stewardshipcalling.com or  sotpaetj@gmail.com.  In the meantime, you can review the PowerPoint that supports the Orthodox version of this program (see below) and actually see the program delivered (go to the TRAINING VIDEOS  tab on this website).
Copyright © Bill Marianes 2010-2015