I am just not that important in the grand scheme of things. This website, and my stewardship calling, is not about me. It is merely my opportunity to use the many and wonderful gifts, talents and blessings God has given to me for His greater glory and for my salvation and as I attempt to help people and parishes discover and live their stewardship callings. I am merely a servant for whatever work God or the Holy Spirit has in mind. I have been truly blessed, and it is an even greater blessing to share whatever I can with you.
In case you were wondering, by education, I have a Bachelor of Arts degree in Psychology from Northwestern University, a Master's Degree in Business Administration from Goizueta Graduate School of Business Administration at Emory University and a Juris Doctorate from Emory University School of Law. I am blessed with a loving and supportive wife of over 36 years,  the two most amazing daughters in the world (who I love unconditionally and with all my heart), each of whom are pursuing their own unique stewardship callings with passion and faith.
By day, I was a partner in the Atlanta office of a great 1,000+ lawyer international law firm, McGuireWoods, practicing in the areas of corporate law, mergers and acquisitions, intellectual property, business succession planning and church matters. And by the grace of God, after an amazing 36-year career, I was able to retire from the full-time practice of law so that I could donate all of my remaining time to my Stewardship Calling ministry and the service of Christ's church.

And while I studied psychology of humans, organizational behavior and strategic planning in graduate school, it is the over 36 years of hands-on experience working with all types of national and local nonprofit organizations, Christian churches and schools, parishes, Metropolises, Dioceses, Archdioceses and many wonderful people that have prepared me for this calling.
I have been blessed to work on capital campaigns that raised over $100 million, annual campaigns that raised over $25 million and have worked with some of the best stewardship, fundraising and strategic planning consultants around. But more importantly, I have been privileged to dedicate a significant portion of the last 36 years, and every available weekend for the last 10+ years, and full time since January 1, 2017, traveling 250,000+ miles all over the United States to work with national, regional and individual church communities, clergy and faithful to understand and implement true stewardship and strategic planning in their own lives and the lives of their parishes.By God's grace, I have been able to help complete strategic plans that cover approximately 17%+ of all Orthodox Christians in America.

And whether it was serving on the Board of Directors of the United Way, Archdiocese Council, Metropolis Council, numerous parishes, schools and other Christian ministries, chairing Christian school boards or conducting strategic planning or stewardship training for Christian organizations, schools and churches, all these wonderful experiences have, by the grace of God, robustly prepared me to share with others what I have learned.

God has truly blessed me and I am honored to "pay it forward." I hope this totally free website starts to repay that great debt for God's greater glory and for the salvation of my soul. Let me hear from you with your questions, comments and suggestions. You can reach me at either Bill@stewardshipcalling.com or sotpaetj@gmail.com or through my BLOG on this website. And, as always, I welcome your prayers.
 May God bless you as you pursue your own unique stewardship calling, and I pray that you:
"Stay  on  The  Path and  enjoy  the  journey."        "SOTPAETJ"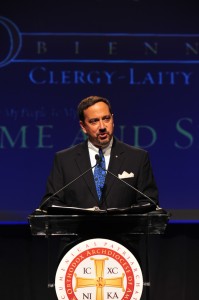 To learn more about pursuing a stewardship calling and some new and exciting stewardship projects coming up, click on this link for: An Interview of Bill Marianes with Father Chris Metropulos of Orthodox Christian Network – Come Receive The Light.
To learn more about the "Igniting the Flame of True Christian Stewardship" program that helps Parishes reorganize themselves to become stewardship driven and re-energize their faithful to implement true Christian stewardship and live their callings, click on the STEWARDSHIP TRAINING VIDEOS and STEWARDSHIP TRAINING MATERIALS tabs under the Training/Retreats tab in this website, or contact Bill Marianes at either Bill@stewardshipcalling.com or  sotpaetj@gmail.com or through my blog on www.stewardshipcalling.com. 
Copyright © Bill Marianes 2010-2014