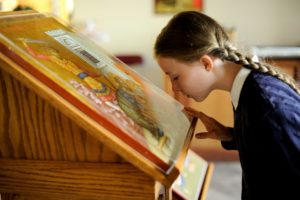 What are you doing to help youth and emerging adults have a "good account before the awesome judgement seat of Christ?" The task to nurture the souls of the young people entrusted to us is among the most awesome and sacred responsibilities adults have.  So how are we doing with this critical task, and what can we do better? What is the future for our youth and emerging adults in Christ's church in America?
On Sunday, July 30th, starting at 8:00 Eastern, Ancient Faith Radio will present the live Stewardship Calling 5th Sunday Series program hosted by Bill Marianes and Fr. Barnabas Powell with special guest Steven Christoforou. We will cover the 2nd part of the dialogue about youth and religion that began on the April 30th Stewardship Calling program. Specifically, we will review at least 5 critical things we can do based on the latest research and Holy Scripture to address some of the 7 key findings regarding Christian youth and emerging adults in America today.
We will also consider some troubling new, preliminary empirical data from a survey of 580 Orthodox churches regarding their youth and emerging adults programs.  The overall negative trends regarding church disengagement in the U.S. are well-documented and real. Some good solutions are now also equally well-researched and real, but not yet fully implemented by parishes or parents. This July 30th program is devoted to presenting the facts and giving you some useful ideas, tools and encouragement.
You are invited to join this live "internet radio" Stewardship Calling program on Sunday, July 30th starting at 8:00 p.m. Eastern by either logging in directly:
(1) from the Ancient Faith Radio website by clicking here: http://www.ancientfaith.com/radio/live  or
(2) go to www.stewardshipcalling.com and the tab on Podcasts and Internet Radio by clicking here:  http://stewardshipcalling.com/internet-radio/ and scrolling down to the discussion for this July 30, 2017 program.
This is a live call-in program and we welcome your questions and comments by either calling: 1-855-AFRADIO (855- 237-2346), and/or joining our lively chat room at http://www.ancientfaith.com/radio/live.
 Steven Christoforou (the Director of the Department of Youth and Young Adult Ministries of the Greek Orthodox Archdiocese) will join me in exploring the lessons learned from all of the great empirical research, our decades of work with youth and parishes, as well as Steve's "Be the Bee" and "Pop Culture Coffee Hour" programs.
 If you are concerned about the religious education, engagement in church or stewardship of our youth and emerging adults, this will be a program for you! If you know of someone who should hear this information, or wants to participate in this discussion, please forward this message  to them (or make an announcement in your church) and encourage them to tune in the Ancient Faith Radio Stewardship Calling 5th Sunday Program on Sunday, July 30th at 8:00 p.m. Eastern. Thanks, and God bless.
 Bill Marianes